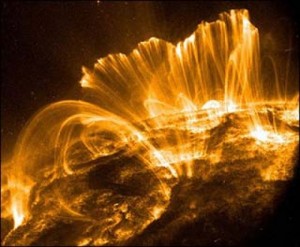 Beginning with the Fukushima disaster on March 11, 2011, and quickly followed up by global studies to evaluate the safety of nuclear power plants worldwide, the promise of effective low cost energy is being threatened on a level that has entered propaganda circles. The recent assertion that solar flares from the sun are going to cause up to one year power outages globally should feel ridiculous and absurd, because they are.
The sun has ejected massive flares towards Earth quite regularly since man has started to rely on electronics to manage the operations of all power grids, power plants, etc. At no time have we had the slightest near cataclysmic event, and despite claims that the sun is growing more and more active, we will not incur these disasters anytime soon, unless the event is created by agencies or groups that could benefit from such disasters, or if the same resources work to catalyze such an event.
The planet Earth is surrounded by a supremely powerful shield known as the Van Allen belts. As described in our Moon Hoax article, this shield is so incredibly strong that coronas hundreds of times the size of Earth fail to effect our weather or overall temperature in the slightest. This natural shield successfully protects us from all harmful heat signatures, and largely any electron based interference on Earth. Do transmissions and electron based communication lines get effected? Yes. Are these disturbances large enough to cause cascading systems failures worldwide? No.
Who would benefit from such a disaster?
One need not look further than the Pentagon's disaster scenario to understand what they want us to believe about such an event. The largest threat is that we'll lose power for up to a year until power is restored. This will accomplish a number of things for the elite controllers who dream up these threats.
One, the overall population would most likely reduce. Society as a whole would go into chaos scrambling for food as military installations would be the first to regain power, if they lose it at all. This positions the bullies over civilization to do whatever they wish with us.
Two, the very web page you're reading now would cease to exist. This will greatly benefit their control over information being distributed so that you can learn how the world works, who the bad guys really are, and you're ability to pass this information along to those who might be in a position to do something about it.
Three, where would you get your power from? How much would you pay? These events are seldom orchestrated without every conceivable profit or control mechanism devised ahead of time. As the world population reduces due to starvation, and perhaps lack of shelter in places that use power to heat and cool themselves, society as a whole would be relegated to purchase an otherwise affordable commodity from those who control all, and most probably at prices that one could not afford. It would be a good time to remember NATOS many food for sex scandals when thinking this third point through.
What can we do?
First and foremost, get educated about geothermal power plants. In the mid-1950s, CALTECH university was tasked by the United States government to come up with the safest most abundant power source possible. They submitted a series of designs for safely tapping into the Earth's mantel and drawing heat from nearer surface objects such as volcanoes and the like to boil water, spin turbines and thus generate electricity.
The power companies that have invested billions of dollars into coal and nuclear sources have "edited" these plans to corrupt their original "safe" designs into toxic pipe factories that route poisonous gases to the surface that then have to be dealt with. The original designs relied on capped pipes that boil water at the source in very shallow drilling and never allowed the internal gases of Earth to go anywhere. This has been lost on virtually everyone until this article.
To clarify, a properly created geothermal plant drives large test-tube like pipes into the soil near naturally shallow volcanic sources, boils water at the source, routing the steam from the touch point directly into turbines that then route electricity to the surface for distribution to the world. A single geothermal plant could supply an entire country with power at 1/4000th the cost of all currently available power sources today. As with electric cars, the research has been usurped by multi-national corporations to bury it from the public eye and post absurdly illogical diagrams on WikiPedia for general consumption.
Some lies about nuclear energy
Today's nuclear power plants are maintained largely due to their constant creation of toxic materials that are then converted into nuclear weapons. Ever wonder why the United States and Europe are so concerned with Iran building their first nuclear plant? They know that whoever can successfully build this, gets to join the insane club of countries that could destroy all of humanity in a single button press. If geothermal plant designs weren't tampered with, Iran could build a safe non-toxic source and rid themselves of NATO threats all together. Then again, perhaps they do want weapons to defend themselves from the obvious attempt to destroy all Eurasian nations.
It should also be noted that for every person who lives 75 years on nuclear power, a golf ball size of nuclear waste is created that will take approximately 9 million years to naturally dissipate. The likelihood is that at some point in the next 100 years we will devise a way to refine these materials into inert elements, but until then, we are stockpiling poisons that are slipping into our water and food supplies…all to the benefit of our controllers.
In the end we encourage you to reject entirely the assertion that the sun is suddenly going to change so drastically that we will suffer any measurable disasters. If we do lose power, it will mostly be due to ENRON schemes to force brown-outs and perhaps create plant malfunctions to benefit exclusively corrupt agendas.