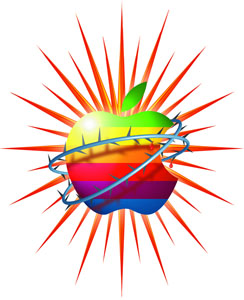 As we mentioned in our previous Apple prediction in July of 2012, Apple has convinced its board of directors to position the company against the wall of "post-pc" era firing range. Apple can't survive the piranha in this sector. Apple needs to stick to its guns in computer laptops, desktops, and the software that makes them special.
Tim Cook, the most obvious bad choice of a successor to Steve Jobs, attempts to lead Apple by merely using Steve's patented phrases with zero charisma and inability to express his love for what he's doing. Tim has demonstrated a complete lack of ability to lead Apple from the onset. The recent record-breaking revenues are merely the result of Steve's last year of office. Apple is unfortunately designed from the ground up to have a single point of innovative dictatorship regardless of the PR campaign to the contrary. Apple needs to be dynamic enough to replace Cook at its earliest convenience with someone who has passion for Apple's success.
For the past week (November 2012), Apple has been attacked by the media on a monumental scale. The negative coverage and forecast is more dire than during its mid-90s death spiral. Every single news outlet is predicting the end of Apple, and while having a near $1 Trillion market-cap within the year. Interestingly enough, no one predicted the death of Microsoft when they released Windows Me, 2000, Vista, and now the head-in-ass Windows 8 that in any rational world would be the death of Microsoft once and forever.
How To Save Apple
In the mid-90s WIRED magazine released and issue suggesting 100 ways Apple could save their company. In nearly every case, Apple followed the suggestions including bringing back Steve Jobs. We don't have 100, but we do have a few. Let's let the suggestions earn their own credibility.
Replace Tim Cook – Yes, replacing Tim is not a guarantee of anything. However, it must happen. Even Jony Ive's appears to be a logical choice prior to Scott Forstall's boot. We're sad to see Scott go. He seemed like the nearest DNA to Steve's gene pool. Opening up the CEO search might be a viable choice if no one inside Apple can be found. Tim appears to be able to run daily operations, but only under the leadership of someone else.
Reduce Pricing – Apple has long carried this elite mentality of being the SONY of computers. This concept was set during the raging economy of the 80s and 90s. We no longer live in this era, and have the internet to know just how great an offering is. We'd like to suggest that Apple reduce the following pricing:
Low-end models reduced by 30%.
Mid-ranged models reduced by 20%.
High-end models reduced by 10%.
The age when Apple can gain market share by gouging their customers is over. As an Apple genius will tell any customer, "Your computer is only designed to last two years." With that, they need to be priced like disposable razors. As of now the elite attitude is turning into acidic hate for the Apple branding. There is simply no love for reminding people what they can't afford. If Microsoft proved any thing, it's that people will buy crap products that are priced right. Imagine what they'd do for a great product at the same price?
Reinvent The Apple Store – Everyone knows that the Apple stores have turned into a trendy place to hang out for employees who don't want to work. The only requirements to be an Apple store employee from our perspective is to have as many facial piercings as humanly possible, at least four visible tattoos, strictly hipster clothing, and absolutely beyond all qualifications know nothing about Apple products. This is the easiest fix of them all. Fire as many employees as possible, and build up the staff with actual knowledgeable humans. Cut the miles of red-tape to get to speak with a technician, and put a moratorium on employee-to-employee bantering. These stores are an embarrassment to Apple at the highest level. Don't let the "better than the competition" revenues cloud true potential.
Rediscover Software – If one watches all the legacy videos recalling Apple's initial success, it was the software that brought the customers in to stay. Today Apple is notorious for creating software merely to give their machines a gimmick that will be immediately abandon as soon as the sales numbers go up. The iLife suite has barely seen an enhancement in the last five years. Final Cut Pro, the single reason Hollywood bought Macs in bulk has been turned over to the iMovie team for dismantling. The bottom-line is Apple needs to cease gimping their application software and investing in not only revolutionizing their existing line, but continuing to innovate software solutions as they did in the early 80s and late 90s. NeXT computer failed as a hardware company, but turned its first dollar of profit from selling its software and operating system. There is more magic left in this formula.
Release New Chips Immediately – We all know that chip manufactures create chips that run far an excess of the models that are sold on the market today. All computer manufactures hold onto increases in power and slowly clock them up in 25% increments over four years pretending the public can't look up the deception. Apple has a chance to end this charade once and for all and release speed enhancements every two to four years as the chip speeds allow.
Reinvent The Desktop – This post-pc concept is as ridiculous as convincing a population to give up driving for walking. People buy bigger televisions because they want an immersive experience. Tablets are cute, but lack the utility and function of true desktop computers. People don't want to write letters on clunky soft keyboards, and they definitely don't by iPads to turn them back into a portable computer. Apple's MacPro line is one of the finest computer products ever created, and for the last four years has virtually gone unchanged. Apple needs to continue to push into professional computing for individuals that rely on high-end horsepower.
Cease Gimping The Previous Operating Systems – It's a never discussed fact that Apple releases "security patches" to make previous versions of the operating systems unacceptably slow thus forcing a customer to buy new hardware to correct the problem. This blatant obsolescence tactic is insulting to the customers who stuck with Apple through the bad times. A product is recommended based on its longevity, period. Killing off previous computers maliciously is bad ethics gone astray. Apple needs to learn a lesson from Toyota, and allow their computers to remain excellent machines for as long as they'll turn on. As the saying goes "Once a Toyota customer, always a Toyota customer."
In the end we think Tim Cook simply doesn't understand anything we've written in this article. For those of us who have grown up with Apple over the years and understood Steve Job's goal of going against tyranny of a technical nature, we submit these ideas to hopefully fuel Apple to the next stage of greatness. We hope that our deeper fears of Apple being intentionally destroyed are simply unfounded. History will surely confirm either way.